Pool Deck Resurfacing in Phoenix, AZ
Sun Valley Concrete Coatings has been providing superior UV stable pool deck resurfacing, concrete coatings, and overlays to residential and commercial properties in the Metro Phoenix area. Whether you're looking for pool deck resurfacing, slip-resistant areas around your pool, or even an overall renovation of your pool deck, we have options for any budget!

UV stable pool decks are one of the most effective ways to keep your feet cool during the summer. It's designed not only to keep it from getting too hot but also to provide protection for your pool deck against sun damage and cracks caused by exposure. This makes your pool last for a longer lifespan!

Don't settle for a less than perfect pool deck! Call us to schedule an appointment today!

Call us for a free estimate at (602) 324-7244.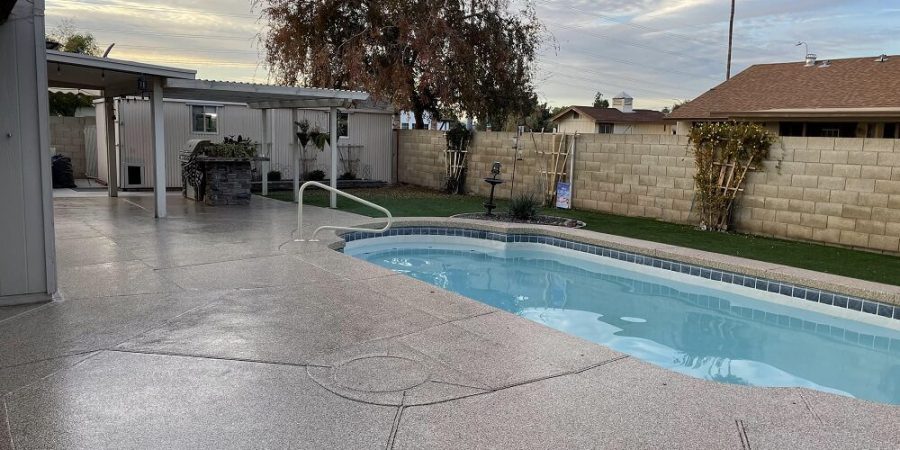 Trusted Pool Deck Renovation and Resurfacing Company for Your Old and Cracked Pool
For most pool owners, an unkempt, old pool deck can be an eyesore! Sun Valley Concrete Coatings is the leading concrete resurfacing contractor in Phoenix, AZ. We are a licensed contractor serving the greater Phoenix area and surrounding areas in the Valley.
We resurface pool decks, paver floors, and other projects that will bring life back into your backyard space or add curb appeal to your pool area for years to come.
How to Resurface a Pool Deck?
Pool decks are typically resurfaced with a new, smooth surface. If you have more extensive damage to your pool deck like cracks and pits then swimming pool repairs might be an option for you.
When you choose to repair and resurface your pool, we start by grinding away any hairline fractures or installing an overlay which can transform your pool deck into something truly unique. When we resurface your pool you can expect the following steps.
Our first step is to turn off all electrical attachments and drain the pool. Then, we would strip away the flawed material and sandblast the existing concrete slab to get it ready for the new material.
2. Creating Your Custom Design
During this step we create the design and final look for your pool deck. Whether it's resurfacing or overlay, here is where the magic happens.
3. Applying the Finish Materials
After installing the new concrete surface, it's time to apply the finish material, which will ensure your pool deck is smooth and slip resistant.
Providing the Best Anti-Slip Coatings for Pool Decks
One of the most popular pool renovations is resurfacing. This can be done in order to give your swimming area an overall new look, to repair an existing pool deck or just because it's time for an upgrade!
Sun Valley Concrete Coatings provides durable, beautiful, and functional pool deck resurfacing. 
Acrylic concrete resurfacing can give your pool deck area a new and completely renovated look at an affordable price! 
With our extensive line of other services, we have the best solution to make any pool deck look like a million bucks! We make sure to work with you every step of the way so that your pool deck makes you proud every time. You will look forward to entertaining guests again!
We offer free estimates, call us at  (602) 324-7244
Professional Concrete Pool Deck Resurfacing Contractor in Metro Phoenix Area
Are you looking for a way to spice up your dull pool deck? Pool resurfacing in Phoenix can give it new life!
A stained or discolored old deck can be unappealing; however, there are solutions available such as stamped concrete resurfacing which delivers the best look at an affordable price and with a fast turnaround.
Sun Valley Concrete Coatings offers a wide range of services to create the ultimate backyard experience. We understand that along with creating your dream concrete pool deck comes preserving it for years to come- which means keeping its appearance as beautiful and polished as when you first built it! 
Our concrete surfaces are cost-effective and don't crack or chip like other products. With our deck resurfacing service, we can also install a non-slip texture so your family and guests can feel safe around your pool. This is especially helpful when you have kids running around your pool deck. 
Need to resurface your pool? Call us at  (602) 324-7244  for a free quote!
Common Pool Deck Resurfacing Frequently Asked Questions
Contact Us to Get Your Pool Deck Spruced Up for Use All Year Long!
If you're looking for a company to provide superior UV stable pool deck resurfacing, concrete coating services or any other type of epoxy coating in the Phoenix metro area then call Sun Valley Concrete Coatings today! We offer competitive pricing and free estimates.
Call (602) 324-7244 now to schedule an appointment with one of our experts!