Driveway Resurfacing in Phoenix, AZ
Driveways are an investment that can last for decades with proper care. Concrete is a strong and excellent choice for many customers. Like any investment, however, there comes a time when the surface of your concrete will show signs of degradation. Maybe it's due to weather damage (UV exposure), years of exposure to the elements, or excessive foot traffic.
Whatever the reason or cause of your concrete driveway's degradation, it is in your best interest that you look into resurfacing sooner rather than later. Explore this option and see what a difference resurfacing can make to your home value and curb appeal.
Our experts at Sun Valley Concrete Coatings in Phoenix, Arizona, are ready to go over all the things we can do to make your driveway beautiful again!
Call us at (602) 324-7244 for a free quote!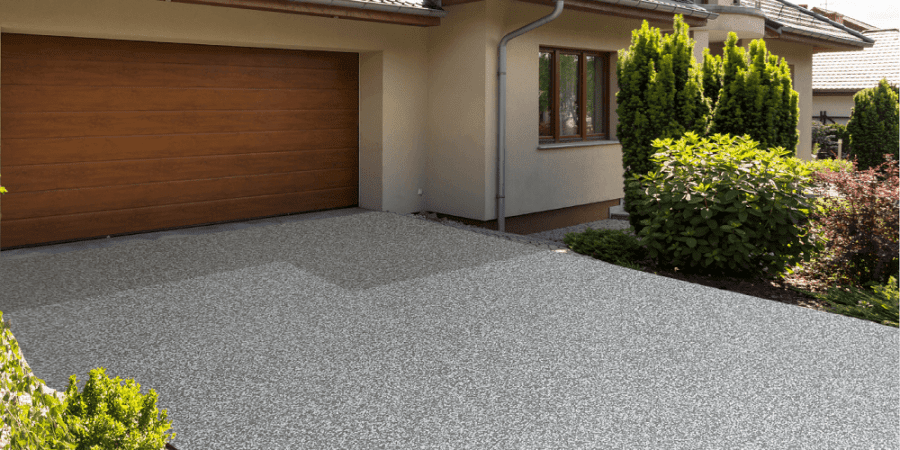 Benefits of Concrete Driveway Refinishing
There is a long list of benefits of concrete resurfacing. You'll be amazed how resurfacing can make a big difference to your current driveway. Plus it's a lot more affordable than installing a brand new driveway. All while making it look brand new. 
Here are some of the advantages:
Concrete resurfacing is less disruptive than repairing or reinstalling concrete.

It will enhance the appearance of your home.

It can add value to your property.

Concrete resurfacing is more cost-effective than concrete restoration.

Concrete resurfacing is quicker and easier to do than a repair.

It is more eco-friendly than concrete repair because it reduces the need to cut out, haul away and dispose of old concrete.

It's more practical than concrete repair.
If this sounds like something you may want for your home, Sun Valley Concrete Coatings is ready to get the job done! Our company has successfully provided an economical alternative to concrete repair for homeowners throughout Phoenix, AZ.
Get in touch with Sun Valley Concrete Coatings today to learn how our professional and quality work can improve your residential property in AZ!
How to Resurface Concrete Driveway?
You must have seen other concrete contractors and their commercial advertisements, but do you know what happens during the resurfacing of concrete surfaces?
Our experts in Phoenix, Arizona, use our trademark method to restore your concrete without disruption or destruction.
Here is what you can expect when choosing concrete resurfacing:
Step 1: Prepping Your Driveway
We begin by removing dirt, debris, and any other contaminants that might be present on the surface of your concrete. We use powerful pressure washers to make sure we get a clean start.
After we clean the surface, we will fill any cracks before the installation of a new concrete coating to create a smooth and level surface.
Next, we prime your concrete floor with a unique formula to act as the bonding agent for the new resurfacing coating. We let the primer dry before applying anything else to ensure maximum coverage, adhesion, and durability.
Step 4: Coloring Your New Surface
Once the primer is completely dry, we'll apply our specially formulated concrete coating material for the perfect final driveway resurfacing.
Step 5: The Final Product
After the resurfacing material is applied, we will rinse the surface thoroughly to remove any excess product that might have been left behind on the surface of your finished project.
Step 6: Seal That Beauty!
Once your new driveway has been rinsed clean, we'll apply a sealer to it. The sealer installation provides a barrier against damage from chemicals, water, and other damaging substances that might cause your concrete to deteriorate over time.
Contact Sun Valley Concrete Coatings today if you're a homeowner in AZ who wants to get this done for your residential property.
We're dedicated to helping homeowners throughout Arizona update their homes without spending too much money on new construction or repair! Call us at (602) 324-7244.
Resurfacing Driveways Throughout the Metro Phoenix Region
Arizona is home to many of the most influential and memorable events in American history.
From the natural beauty like the majestic Grand Canyon to the finest hotels and resorts, Phoenix is known for its long history while always keeping modern.
To keep up with this progressive spirit, we strive to provide concrete resurfacing services that will keep your property looking fresh and current.
Sun Valley Concrete Coatings is a locally owned and trusted decorative concrete contractor in Phoenix, Arizona. We service residential and commercial owners in the Metro Phoenix and surrounding areas.
Enjoy the freedom of having a durable concrete driveway that doesn't require replacement for many years after it is installed.
Other concrete resurfacing services we offer:
Backyard concrete patio

Sidewalks and walkway
Call our decorative concrete team in AZ today at (602) 324-7244 to schedule your appointment for a free estimate!
Common Driveway Resurfacing Frequently Asked Questions
Get Your Driveway Resurfaced by Us Today!
Is your Arizona home's driveway in need of a touch-up? We here at Sun Valley Concrete Coatings are up for the job! Call us at (602) 324-7244, we will answer all your questions regarding our concrete coatings and all of our available design options. We will even give you a free estimate!